gbesco
Senior Member


Joined: 23 Apr 2003



Last Visit: 18 May 2013
Posts: 280
Location: Montana
Posted: February 10 2004, 8:55 PM

Post subject:
---
I drive a GMC Yukon & my license plate says 'pig farmer'. HA HA HA HA HA! No, really, I drive an '02 red Honda Odyssey & Grant drives an '04 dark green Chevy 2500 4x4 crew cab. We are trading in our van sometime soon & we are thinking of a Denali or a Sequoia... there's not too many choices with 4 kids!! I really like the Volvo XC 90 but it's just too small for us.

_________________
Bethany, mom to Elliot 14, Seth 12, Clarke 11, Olivia 3/6/03 Ds, Estelle,12/13/10 (adopted from the Marshall Islands)
Heidi
Super Member


Joined: 03 Jan 2002



Last Visit: 04 Nov 2009
Posts: 1182
Location: Oxfordshire, UK
Posted: February 12 2004, 10:21 AM

Post subject:
---
Phew-that will teach me to be out of touch for a few days-I just love this thread!!

I have to go with Carrie on this one-who needs a car that has fallen off its perch and is pushing up daisies?!!!!

I drive a Citroen BX estate-just destroyed a Citroen 'tank' (my word for it-those stupid cars with lift up suspension at the back-ugh!!)-N reg and has 122000 on the clock-great for push chairs, shopping, collecting boys and friends from school etc.

Rob drives a Ford van which is a walking farmyard-including the smell!!

My dream car would be a Morgan or BMW convertible..........in my dreams!!!

_________________
Heidi
NattysMommy603
Super Member


Joined: 12 Jun 2003



Last Visit: 21 Jun 2008
Posts: 2059
Location: Athens, Alabama
Posted: February 12 2004, 8:05 PM

Post subject:
---
Ok, so I'm not a big car buff but I know what mine are.

This is funny.

Honey bought me (3 years ago) a 1999 Ford Taurus/midnight maroon red/ v6/now has over 90,000 miles on it.

My honey's car is/was a 2000 Kia Sephia/pewter gray/4 cylinder (not fast enough for me) now has just over 65,000 miles on it

Funny thing is that when I was 4 months pregnant with Natalie I wrecked the Ford. I was pulling out of a shopping center and a Big Brown Truck was turning in on my left. I was wanting to cross traffic and head left. Well, it was clear to the right and since I knew Mr. UPS was turning in i pulled out. Unfortunately, I didn't see the bright fire engine red 2003 mustang that Mr. UPS had next to him. Wham! I knew the people as they owned the store on the corner. He was more mad at his wife for taking this horrid road than me for pulling out in front of their 2 day old car.

To make a long story short, my ford didn't seem to safe for me so I talked my dh to swap vehicles and let me drive the smaller one since I didn't need that much room for me and Natty-poo. So, he drives the freedom fry.
_________________
Tracy
Proud momma of
Natalie Marie 6/8/03 My baby is 5!,
Tyler Slayton 4/15/05 Wow, he's 3!
Rebecca Darlene 12/10/06 Has it really been a year and a half!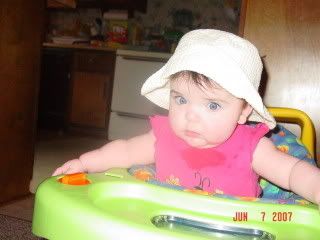 carolyn
Senior Member


Joined: 10 Feb 2002



Last Visit: 16 Mar 2011
Posts: 578
Location: Scotland
Posted: February 13 2004, 5:04 AM

Post subject:
---
yes Jeff! You got it! Its not that theres no ROOM in the Peugeout for a little slap and tickle its just that you really wouldnt want to because it is such a sensible unimaginative car..and you would have to move the car seat out and probably get a rattle or a teether stuck in unmentionable places etc etc. Fish and chips in Manchester eh? Now THAT must have been an experience. (was it raining?) And how could anyone drink their tea WITHOUT milk? Anyway, hope that if you are ever over this side of the water again that you give us a call.. and we'll find a few more haute cuisine experiences for your palate!

Heidi.......my Dad used to be the secretary of the Morgan sports car club.........honest! When he and my Mum split up many years ago he went straight out and bought a Morgan...! Found it very useful for pulling the ladies...! He used to race it in Morgan club races and I had a go once for a 'ladies' race. I won two gallons of oil. Didnt have a car of my own at the time...He's now happily remarried and drives some sort of Citroen automatic.....has done his thang with the Morgan and no longer needs it!

Carrie

_________________
Mum to Keir 15th October 2001 (ds) and Rory 3rd August 2003
Heidi
Super Member


Joined: 03 Jan 2002



Last Visit: 04 Nov 2009
Posts: 1182
Location: Oxfordshire, UK
Posted: February 16 2004, 4:31 AM

Post subject:
---
Carrie, you have no idea how jealous my Dad would be if I told him..........his ambition for years was to have a Morgan. He decided that by the time he could afford it, he would be too old for it to be any use as a pulling machine!!

_________________
Heidi