Me-Shell
Senior Member


Joined: 24 Sep 2007



Last Visit: 24 Jan 2013
Posts: 855
Location: Davie, FL
Posted: May 22 2008, 4:05 PM

Post subject:

Not new to the board but it has been awhile
---
Hello Everyone,
I am not new to DownSyn, I introduced myself last September when I was pregnant and found out via an amnio that my little prince had DS. I am happy to say that Cameron Alexander was born on February 6th. He was 7 lbs and 11 ounces. He is the light of my life and we have been blessed that he has been healthy. The hardest thing I ever had to do was come back to work and drop him off at Day Care for the first time. I do not want to miss out on any of precious moments. He started to roll over from back to tummy the other night and he does it non stop. Yes he gets frustrated cause he can't go back the other way but I love to watch him try. I am jealous that his teachers get to see him more than I do and will probably see all of his firsts before me.
My evenings with him are the best part of my day.
I am happy to have come back to this special place and love reading everyones stories. You give me so much inspiration.
Michelle
_________________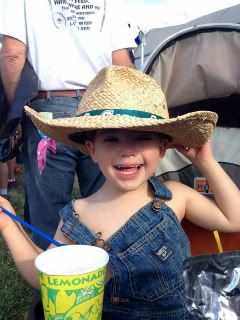 Michelle, Fiance to Wyatt, Mom to Shane (22), Aubrey (19) and Baby Cameron DS (02/06/08 )
"Therefore do not worry about tomorrow, for tomorrow will worry about itself. Each day has enough trouble of its own." After all today is the tomorrow you worried about yesterday.
Elizabethsmom
Senior Member


Joined: 12 Apr 2008



Last Visit: 07 Mar 2011
Posts: 213
Location: Tennessee
Posted: May 24 2008, 7:34 PM

Post subject:
---
He is so beautiful! I am glad to hear he is healthy!
_________________
Charlotte, proud mom to Elizabeth (DS 10/5/05)
EliasMom
Super Member



Joined: 14 Dec 2005



Last Visit: 23 Jan 2013
Posts: 4439
Location: Monterrey, Mexico
Posted: May 24 2008, 9:34 PM

Post subject:
---
welcome back! he's way too cute! and so awake!! love his eyes!
_________________
Ali (2
, wife to Felipe since nov 2004 & mom to Elias (Feb 21 2005) & Eva (July 2 2007)
YouTube
Blog
http://aliciallanas.blogspot.com
littledear
New Member


Joined: 10 May 2008



Last Visit: 13 May 2009
Posts: 12

Posted: May 26 2008, 2:10 PM

Post subject:
---
What a cutie pie! Glad to hear he is healthy little boy.
_________________
Proud Mom to Jaxin - Jan 4/07
kellyrimmer
Super Member




Joined: 14 Feb 2006



Last Visit: 03 Jan 2013
Posts: 5080
Location: Atwood, TN
Posted: May 29 2008, 12:02 PM

Post subject:
---
welcome back im not on as much these days but trying to do better
_________________
Kelly Rimmer
Mom to
Paige-11-12-92
Aaron-06-16-99(Adhd and Dyslexia)

08-19-05 (DS)
Kristen-11-1-06
Sydney- 3-8-08
Helen Keller once said
"Character cannot be developed in ease and quiet. Only through experience of trial and suffering can the soul be strengthened, ambition inspired, and success achieved".