KatieB
Senior Member


Joined: 19 Feb 2005



Last Visit: 08 Jul 2012
Posts: 740

Posted: May 29 2008, 8:57 AM

Post subject:

Matty and the school Principal
---
I was doing some tidying around the house this morning, phone rings, see the school # on caller ID, "oh no" It was the school Principal, and not a social call. Matty was in her office, and not in there to say good morning. Seems he unbuckled his seat belt to the car set in the van, don't know if he became mobile in the van. So he was sent there for not listning and not obaying the van rules. He was spken to by her, and she called to let me know that she had spoken with him about this, I told her this has happened with us, we remind him of car seat, belts, van rules and that was what she had spoken with him about, and than she put him on the phone so I could talk to him. All he said was "shrek videos, Giselle (Enchanted), and where are you" Lovely, our sons first day for going to the Principal. I don't even think it sunk in about me telling him about the above situation. He won't be there tomorrow anyway due to a Dr appt.
Katie
KatieB
Senior Member


Joined: 19 Feb 2005



Last Visit: 08 Jul 2012
Posts: 740

Posted: June 18 2008, 3:18 PM

Post subject:
---
Matty had another trip to the principal this afternoon at school. He threw his glasses across a room, took off his shirt and threw it in a trash can, spit and grabbed the aids arm that he is with nearly all the time. the Principal and the SPED teacher were pondering the new med, but's a very low dose, so who knows. the principla did not sound happy, neither was I, but she was appreciative that I called her first regarding this, the van driver told me. School is over in 2 days.
Katie
RachelG
Senior Member


Joined: 27 Mar 2005



Last Visit: 31 Mar 2012
Posts: 464
Location: YorkshireUK / Indonesia
Posted: July 16 2008, 8:31 AM

Post subject:
---
Hi Katie!
I was just browsing and read your stories of Matty and the Principal! Matty sounds like a real character!!! I'd be interested to know how old he is...
_________________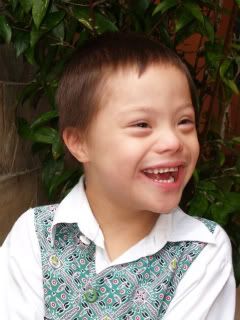 Rachel
Proud mummy of Benedict (May 02) DS
KatieB
Senior Member


Joined: 19 Feb 2005



Last Visit: 08 Jul 2012
Posts: 740

Posted: July 24 2008, 8:50 AM

Post subject:
---
Same age as your son, just 4m younger.