Momof6
Super Member




Joined: 30 Sep 2008



Last Visit: 21 May 2013
Posts: 2717
Location: Cortland, NY
Posted: April 22 2011, 1:52 PM

Post subject:

I'm going to go see Emily Perl Kingsley
---
I'm so excited...May 5th Emily will be talking at our State College about the inclusion of disabled characters and storylines that she writes for on the childrens televison program Sesame Street. I so can't wait.
_________________
~Christine~
Mom of 6
Brandon ADD/ADHD 19, Chelsea 16, Connor 14, Logan 9, Cody 6 & Austin 4 ( DS & Hirschsprungs pull through 12/8/08 ) diagnosis 10/28/10 Colonic Neuropathy, 12/16/11 dx with seizure disorder, neurogentic bladder...Monti Cath 11/9/12
http://www.caringbridge.org/visit/austinpaquin
I think I can, I think I can.
Climb the highest hills in all the land.
(If you think you can, you can.)
He could and he did !
I say CHEESE !
Momtoseven
Super Member


Joined: 11 Aug 2008



Last Visit: 07 May 2013
Posts: 1556
Location: Pennsylvania
Posted: April 22 2011, 8:32 PM

Post subject:
---
I didn't know anything about Emily Perl Kingsley except the "Welcome to Holland" poem. Thanks to your post I just googled her name and learned a lot. Very cool - have fun!!
_________________
Maureen - Mom to Daniel(24), Brandon(22), Jordan(16), Thomas(14), Carrie(10), Samuel(7) and Mark (4)
https://www.carepages.com/carepages/MarkEdwardC32708
AliMama
Super Member



Joined: 08 Aug 2009



Last Visit: 20 May 2013
Posts: 1863
Location: Illinois
Posted: April 22 2011, 10:17 PM

Post subject:
---
You're so lucky! Be sure to tell us all about it!
DanielsMommy
Super Member


Joined: 18 Sep 2005



Last Visit: 15 May 2013
Posts: 4645
Location: Rhode Island
Posted: April 24 2011, 5:39 PM

Post subject:
---
How fun!!! We love her over at our house. She made my Danny famous. Well, famous if you read Chicken Soup for the Soul...children with special needs edition
mary c
Super Member


Joined: 06 Jan 2005



Last Visit: 21 May 2013
Posts: 3752
Location: Westchester County, New York
Posted: April 28 2011, 8:03 PM

Post subject:
---
I know her--she lives in the town next to mine and was the recipient of the Romp For Research Recognition Award two years ago. She is a lovely person.
_________________
Mary
Mom to Libby 6/92, Alex 9/93, Anna (DS)12/12/03
Please support the Down Syndrome Research and Treatment Foundation
http://i139.photobucket.com/albums/q284/maryc_010/a13-1.jpg[/img]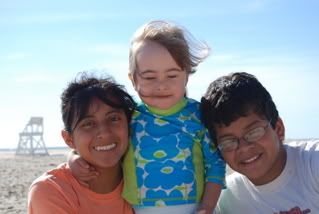 [img]
[IMG]
MiniMidgMom
Super Member



Joined: 07 Jun 2006



Last Visit: 13 Oct 2011
Posts: 3049
Location: near Nashville, Tennessee
Posted: May 01 2011, 10:51 PM

Post subject:
---
I've been spending more time on Facebook than here and it shows - I read this and looked for the LIKE button!
_________________
Anara
Wife to Craig (wed 3.8.03)
Mom to Clara (DS, Autism, born 8.8.05), Alan Russell (born 3.9.07)
Visit us on Facebook - I finally caved in!
Or my blog: able2able... your special needs resource directory
http://www.able2able.com