Love for our girl
New Member


Joined: 19 Apr 2012



Last Visit: 04 May 2012
Posts: 7
Location: Plattsburgh
Posted: April 19 2012, 10:22 PM

Post subject:

Glasses?
---
Hi every one we r a new parents of a DS daughter. We had the blood test done and nothing looked wrong and the sonograms were all reg but two day after having a five week early four pound beautiful little girl we were told that they believed that she had DS. At this point we felt our life's and hopes were ripped from us. Little did we know that she is the most amazing thing that will ever have ever had happen to us.
Sorry about blabbing on. My question is that I see a lot of beautiful children on this site wearing glasses and we were wondering if we should have her site checked again. She is now 18 mounths and has been checked once before and every thing checked out ok. Any one with any answers thank u
lespring
Super Member


Joined: 26 Mar 2005



Last Visit: 18 May 2013
Posts: 12656
Location: Twin Cities metro area, MN
Posted: April 20 2012, 6:47 AM

Post subject:
---
Hello and welcome! Glad you posted.

Yes, you should have your daughter's eyes checked by a pediatric ophthalmologist. Kids who have down syndrome have a high incidence of vision problems (most often farsightedness) They should have their vision checked yearly just like other kids.
_________________
~Leah~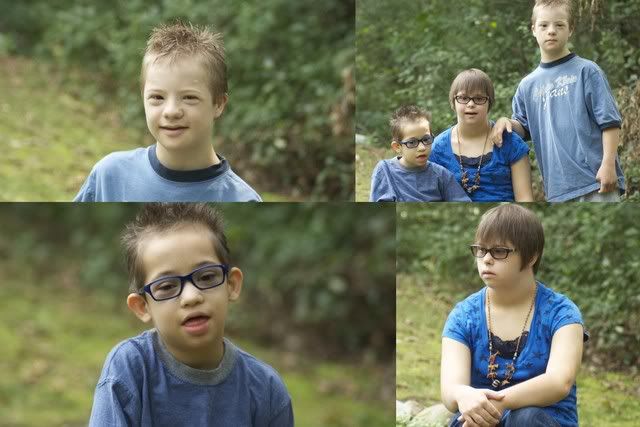 My mom's blog
http://gardenofeagan.blogspot.com/
And don't forget to visit MINE!
http://itsmylifemom.blogspot.com/
mom to Rob 26, Noah 25, Tyler 23, Bryon 23, Angela 16 (DS), Axel 12 (DS, adopted from Serbia 12/2012, AAI w/fusion) Asher 7 (DS adopted from Serbia 12/2011, AAI non-fusion)
naomid
Super Member



Joined: 21 Apr 2003



Last Visit: 18 May 2013
Posts: 4901
Location: Hale, UK
Love for our girl
New Member


Joined: 19 Apr 2012



Last Visit: 04 May 2012
Posts: 7
Location: Plattsburgh
Posted: April 20 2012, 10:11 PM

Post subject:
---
Thank you for your responses we will make her an apt monday.
jtkkmom
Senior Member


Joined: 21 May 2010



Last Visit: 26 Apr 2013
Posts: 239

Kimmy
Member


Joined: 17 Feb 2012



Last Visit: 17 Jul 2012
Posts: 46

Posted: June 22 2012, 5:50 PM

Post subject:
---
Our daughter started wearing glasses when she was about 2 1/2 and started wearing bifocals when she was 8 yrs old.
The bifocals have made a big difference with Teahs observation skills when looking at pictures. Glasses are usually prescribed at a level that means your child still has to 'work' their eyes - however, research has been done that shows children with DS will concentrate for longer if their eyes do not have to work so hard - hence bifocals (top part gives the eyes a work out, bottom part makes seeing easier which in turn encourages sight concentration).
Sorry, this explanation is not very technical but hope I have made at least a little sense!!! (explanation is not my strong point)
Kim

_________________
Kimmy
Mum of Nicole 08/98, Teah 08/00(DS, ASD), Etienne 03/02 and Pierre 09/04.